Mel Correll went to be with the Lord on April 8, 2009. This web page holds a summary of the main points of his final book, How to Release the Power of God. This title embodies the essence of Mel's spiritual beliefs and life-concept.
If you would like to read a Tribute to Mel, click HERE.
If you would like to listen to a rendition of his favorite gospel song, click HERE.
---
How to Release the Power of God to Stop Killing and End Curses Upon Humankind
by
Mel Correll
(January 7, 1919 – April 8, 2009)
To understand why murder and other curses exist today we must go to the history of the world's beginnings.
In the beginning there was heaven. To fill heaven God created angels. These angels included three archangels named Michael, Gabriel, and Lucifer, plus many lesser angels.
Lucifer was in charge of the music in heaven. He also was very beautiful. As a result, he became proud and thought that he was greater than God. So, God expelled him from heaven because of this pride and his rebellion. His name then became Satan. He took one third of the lesser angels with him, which are now known as demons, or evil spirits.
All this happened before God created Adam and Eve. We find the story in the book of Genesis. It tells us that God gave Adam control of all of the earth. He also told Adam and Eve to not eat of a certain tree in the garden. Satan appeared to them and talked them into disobeying God by eating the fruit of this tree. When they obeyed Satan and disobeyed God, the control of the earth was transferred to Satan.
God created mankind in his own image. So, Satan's goal became to show his hatred of God by killing human beings. The way Satan does this is through curses. An example of this was done in Russia with the curse of communism through Satan's man Joseph Stalin. Millions of people were killed with this curse. In Germany, millions of Jews and other peoples were starved and also killed in ovens and gas chambers. This was done for Satan through the curse of Nazism administered by Hitler. Today, Satan is killing millions more through other curses, such as, for example, the curses of large-scale starvation and disease that have arisen in Africa.
However, God has shown us how to stop Satan from killing us. He has shown us because He is not going to stop Satan for us. Rather, He shows us in the New Testament a greater power than Satan's power. He shows us how to get this power and use it against Satan to prevent the killing of people worldwide.
The power that I'm speaking of is the HOLY SPIRIT POWER. This power was not available to everyone before Jesus went through the crucifixion. The Holy Spirit came to this earth with Jesus during the virgin birth. Jesus was then empowered with the Holy Spirit power when he was baptized by John the Baptist. This was the beginning of his three-year ministry when he began to do miracles.
Luke 4:18 says, "The Spirit of the Lord is upon me, because he hath anointed me to preach the gospel to the poor; he hath sent me to heal the brokenhearted, to preach deliverance to the captives and recovering sight to the blind, to set at liberty them that are bruised."
In John 20:21 He tells us to do the same works as He: "As my Father has sent me even so send I you." He also says in John 14:12, "He that believes on me, the works that I do he shall do also; and greater works than these shall he do." In Luke 10:19 he explains, "Behold, I give unto you power to tread on serpents and scorpions and over all the power of the enemy; and nothing by any means shall hurt you." He says in Acts 1:8, "You shall receive power after the Holy Spirit comes upon you."
From these scriptures it is clear that Jesus came to destroy the work of Satan and that He is sending us to do the same works He did and even greater works. I believe that the "greater works" is us stopping the curses today that are killing human beings, curses that cannot be stopped by laws and guns alone.
In short, God wants us to enlist in his army to stop the killing of humankind by the many curses that exist today.

A Procedure for Defeating the Curses that Are upon Humankind Today
To stop the killing of human beings and defeat the many other curses, we must do these four things:
1 - Get the Holy Spirit in us by receiving Jesus as Savior.

2 - Get the Holy Spirit anointing upon us by asking Jesus to put the Holy Spirit power upon us so we can destroy the works of Satan.

3 - Use the name of Jesus to break curses. An example of this would be: "We break the curse of killing and murder over this nation and over the world in the name of Jesus."

4 - Memorize power scriptures and quote them aloud to Satan. These power scriptures include Luke 10:19, Acts 1:8, and Mark 16:17-18.
With thousands of us following these steps and breaking the curses that are killing humankind, I believe that we will destroy the works of Satan and bring peace upon this earth.
Following is a summary explanation of WHY the above procedure works, along with directions for getting the most from it.
---

God would like you to do miracles. You can believe this by reading what Jesus says in John 14:12, "He that believeth on me, the works that I do shall he do also; and greater works than these shall he do because I go unto my Father."

It is very clear Jesus expects you to do miracles. However, this will never happen if you don't try. If you will follow the steps to be used of God listed below, you will see results. In fact, you will be pleasantly surprised.


Five Miracles that Jesus Did for You
The Bible describes five miracles that Jesus performed for us.
1 - SALVATION: Jesus gave us the miracle of salvation when He defeated the grave and arose from the dead.

2 - FORGIVENESS: Jesus gave us the miracle of forgiveness of sins when He shed his blood.

3 - HEALING: Jesus gave us the miracle of healing when He was beaten.

4 - REDEMPTION: Jesus gave us the miracle of redemption from sickness and poverty when he hung as a curse on the cross.

5 - HOLY SPIRIT ANOINTING: Jesus gave us the miracle of Holy Spirit anointing when He went to sit at the right hand of the Father.
Now, here's two things to keep in mind. First, each miracle was unique and different from the other miracles. Second, each miracle was accomplished in a different way.

What Is the Gospel?
The gospel is the good news of the miracles that Jesus did in the cross experience. The first two miracles (Salvation and Forgiveness) are preached by many and in many churches. Some of them also preach the fifth miracle (Holy Spirit Anointing). Most churches believe that preaching these three miracles alone is preaching the full gospel. However, it is not. The full gospel is preaching all five of the above miracles.

The Four Main Power Scriptures
Much of the basis for the Full Gospel – the five miracles – comes from the following four scriptures, which I call the Power Scriptures. These scriptures explain the POWER that you can receive from God. You should commit these scriptures to memory.
John 1:12
"But as many as received Him, to them gave He power to become the sons of God, even to them that believe on His name."

Acts 1:8
"But you shall receive power, after that the Holy Ghost is come upon you: and you shall be witnesses unto me both in Jerusalem, and in all Judea, and Samaria, and unto the uttermost parts of the earth."

Luke 10:19
"Behold, I give unto you power to tread on serpents and scorpions, and over all the power of the enemy, and nothing shall by any means hurt you."

1 John 4:4
"Ye are of God, little children, and have overcome them; because greater is He that is in you, than he that is in the world."
The Eleven Main Action Scriptures
The following eleven scriptures explain the ACTIONS that God will take, the ACTIONS that Jesus took, and the ACTIONS that God expects of us. You should commit these scriptures to memory.
Isaiah 57:19
"I create the fruit of your lips."

Romans 10:17
"So then Faith cometh by hearing, and hearing by the WORD of God."

John 15:7
"If ye abide in Me, and my WORDS abide in you, ye shall ask what ye will and it shall be done unto you."

Mark 11:23
"For verily I say unto you that whosoever shall say unto this mountain 'Be thou removed and be cast into the sea' and shall not doubt in his heart, but shall believe that those things which he saith shall come to pass, he shall have whatsoever he saith."

Mark 11:24
"Therefore I say unto you, what things soever that ye desire, when you pray, believe that ye receive them, and ye shall have them."

John 20:21
".... as my Father has sent me, even so send I you."

Mark 16:17-18
"And these signs shall follow them that believe; in my name they shall cast out devils, they shall speak with new tongues ... they shall lay hands on the sick and they shall recover."

James 5:16
"Confess your faults one to another, and pray one for another, that ye may be healed. The effectual fervent prayer of a righteous man availeth much."

Galatians 3:13
"Christ hath redeemed us from the curse of the law, being made a curse for us for it is written 'cursed is everyone that hangeth on a tree.'"

Isaiah 53:5
"He was wounded for our transgressions, He was bruised for our iniquities: the chastisement of our peace was upon him, and with his stripes we are healed."

1 Peter 2:24
"Who his own self bear our sins in his own body on a tree, that we, being dead to sin, should live unto righteousness, by whose stripes we are healed."
For Results, Quote the Word
To achieve the greatest results from your prayer, QUOTE THE WORD.
That is:
a) Quote the WORD to God (Isaiah 43:26).

b) Quote the WORD to obstacles and unwanted situations (ex. hurricanes)

c) Quote the WORD to the devil and demons (evil spirits)

d) Quote the WORD to infirmities.

e) Quote the WORD to sickness or ailment.

f) Quote the WORD to break curses – both stress-related curses and generational curses.
Look to James 5:13-18. It suggests to us that effectual fervent prayer is done by quoting the Word.
Isaiah 57:19 says, "I create the fruit of your lips."
So, give God the fruit of your lips (that is, your words). Then he can move for you. Put another way, state what is going to happen so He can give it to you. This releases your faith. Without faith it is impossible to please God.

Effectual Fervent Prayer of a Righteous Man Availeth Much
Please know this – God does not intend for you to pray for things that you already have or that have been already given to you. So, don't ask God for anything that has already been accomplished on the cross. Instead, follow God's instructions for acting on those things that He has given to you. Here's what you should bear in mind.
Fervent prayer is prayer that quotes the Word to those things listed above.
A righteous man is someone that has the first miracle active in his or her life and has cast out pride and unforgiveness.
God does not put up with pride and unforgiveness. (This, perhaps, is why some people get incurable diseases.)
James 4:6 says, "God resists the proud, but giveth grace unto the humble."
1 Peter 5:5 says, "For God resists the proud, and gives grace to the humble."
Matthew 18:35 says, "So likewise shall my heavenly Father do also unto you: if ye from your heart forgive not everyone his brother their trespasses."

Steps to Be Used of God
To follow the Way and the Word of God, follow these five steps:
1 - Memorize the five miracles.

2 - Receive the five miracles.

3 - Memorize the Power and Action Scriptures.

4 - Stay righteous by defeating pride and unforgiveness daily.

5 - Learn how to pray the Word to a situation.
Prayers that Do Not Produce Results
Just as certain praying (quoting the Word) produces results, some praying does not. Here is prayer that doesn't produce results.
1 - Praying the Old Testament way by asking God to heal.

2 - Praying without quoting memorized scriptures.

3 - Praying silently.

4 - Praying confusion-type prayer, or praying with everyone praying a different prayer at the same time.

5 - Asking God to stop the devil.
Prayers that Produce Results in Healing and Deliverance
To sum up, to achieve results through prayer, do this:
1 - Pray the Word by quoting scriptures.

2 - Pray Elijah-type prayers.

3 - Use demanding prayer, not asking prayer. For example:

a) Demand an ailment to go and quote the WORD.

b) Demand a curse to leave and quote the WORD.

c) Demand Satan to remove trespass and quote the WORD.

d) Demand evil spirits to leave and quote the WORD.



---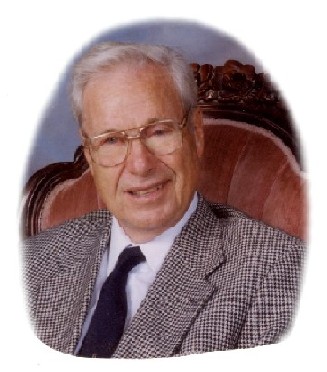 Mel Correll was born in Lima, Ohio on January 7, 1919, and went to be with the Lord on April 8, 2009. (The photo is from 2002.)
At age three he was taken to Michigan where he went to live with Earnest and Evie Correll, who adopted him. After completing his grade school education in the farming community of Eau Claire, Michigan, Mel went to Michigan State University where he earned a B.A. Degree in Hotel Administration. There, in 1942, he met and married his life-long wife and partner, Glenna.
Mel served in World War II as a First Lieutenant in the Ninth Armored Division. Fighting in the Battle of the Bulge, Mel lost his left eye. While on the battlefield in Belgium, God first spoke to him.
After the war Mel returned to civilian life, starting his own successful catering business in Birmingham, Michigan. In 1960 he received Jesus as Savior in the First Methodist Church, and his life was forever changed. Mel has traveled with teams of Christian men to cities throughout the U.S. and Bermuda, teaching and testifying.
In 1971 the Lord moved Mel and his family to Winter Park, Florida, where he again operated his catering business for 20 years. For two and a half years Mel taught classes in healing and deliverance at his church.
On April 8, 2009, Mel went to be with the Lord. He and Glenna have six sons, fourteen grandchildren, and four great grandchildren. Throughout their life they enjoyed traveling and visiting with sons and friends.
---
Closing Note
from one of Mel's sons

Dad and Mom have always had a wealth of wonderful, caring friends. I've never ceased to be amazed at how many they have. This was especially so in the 35 years they lived in Winter Park, Florida.
One of their closest friends is a physician by the name of Paul Thompson. Paul is a surgeon who performed Dad's first heart valve replacement. Subsequent to that he became one of their dearest friends. He has kept in continous contact with them over the years, often stopping by after work — to talk, to see how they were doing, and to perform numerous personal favors.
In the 1990s, Paul attended a couple fishing trips with Dad and several of my brothers and me. On one of these trips I discovered, thanks to Paul, what my Dad was truly about.
It was after dinner and I was sitting on the steps of the lodge looking out onto the water. Paul came out and sat down beside me. We talked for a few minutes. In that time he made a statement that opened my eyes. He said, "Your Dad is a Great Teacher."
"Great Teacher?!!!," I replied dumbfoundedly.
"Yes," said Paul. "I believe he's a Great Teacher. I believe that teaching others is his mission in life."
Later that night I reflected on that statement. I considered all that my Dad has done during his life. I viewed it in light of Paul's observation. Then I realized that it was true. When my Dad's life was distilled to its essence, there was a continuous thread that always existed — my Dad had always been teaching, or attempting to teach, others. He was always trying to get them to understand something or do something he thought would make their life better. It could be about how to better pound a nail, or fix something, or improve something, or … enhance their spiritual development and life. Indeed, my Dad's life mission was about teaching others.
After realizing this truth, I thereafter viewed Dad and his life in a wholly different light.
John Correll
April 11, 2009
A favorite photo and favorite drawing of Dad — photo is circa 1998.