Main Menu
Employee Motivation
Greater Motivation, Better Performance
To order Employee Motivation, click here. ~ To receive a 10% discount when you order, type (or copy and paste) this code — WEC8NUTT— into the Discount box on the order page, and then click "Apply Discount." This will automatically deduct 10% off the purchase price. You get this special savings because you're a valued visitor of correllconcepts.com. ~ This book replaces the online version of Motivation-building, which appeared on correllconcepts.com from 2002–2011. Unlike the online version, this new book is reader-friendly and easy to use. (To view sample chapters, see the "Look Inside" section below.)
---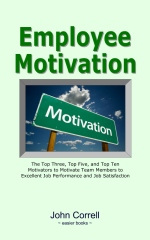 Are you getting all the performance you need from both your enterprise and employees (a.k.a. team members)? Employee motivation is the big challenge facing organizations today — including business organizations. The fundamental question is: "How exactly do we motivate our employees, or team members, to do their job the way it needs to be done and enjoy it, too?"
Everything a business does that amounts to a lasting forward step depends on deriving the correct answer to this question. This book discloses that answer. It gives you the top three, top five, and top ten motivators to building greater employee job performance, both individually and as a team.
In short, employee motivation is the vital ingredient to achieving performance progress and realizing enterprise goals. That's why this book was created.
This is an EASY-READ book — small pages, large text, ample white space, clearly written, logically organized in step-by-step form. It can be read in entirety in less than 60 minutes.
---
A Look Inside …
Title page and preface – click here.
First 12 pages of the first chapter, click here.
---
Technical Info …
FULL TITLE: Employee Motivation: The Top Three, Top Five, and Top Ten Motivators to Motivate Team Members to Excellent Job Performance and Job Satisfaction
BOOK TYPE: Paperback, 100 pages, 5 x 8 inch page size
AUTHOR: John Correll
ISBN: 978-1-938001-01-7
LIBRARY OF CONGRESS CATALOG NUMBER: 2012932985
PUBLISHER: Correll Consulting, LLC — dba Fulfillment Press
PRINTER: Createspace
To view a larger image of the front cover, click here.
TO ORDER THE BOOK, click here. ~ To receive a 10% discount when you order, type (or copy and paste) this code — WEC8NUTT — into the Discount box on the order page, and then click "Apply Discount." This will automatically deduct 10% off the purchase price. You get this special savings because you're a valued visitor of correllconcepts.com.
---
About the Author …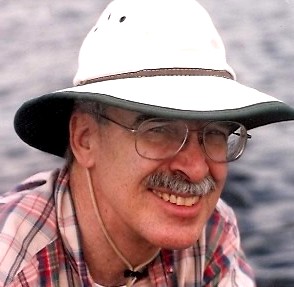 John Correll is a full-time author. His specialty is easier books — easier to read, easier to understand, easier to benefit from. His background includes restaurant and pizzeria manager, training director, corporate VP, entrepreneur, college instructor, business consultant, and, more recently, packaging designer and inventor (holding 43 patents). Nearly all facets of his professional background pertain, directly or indirectly, to business management, marketing, or operations. He enjoys fishing, hiking, and long-distance bicycling. The dynamics of team member motivation and performance-building have been an abiding interest of his for the past 45 years.
Full bio – click here.